At ProLiteracy, our mission is to build capacity in the field and strengthen programs' abilities to serve more students, and we strive to continually improve and enhance how we support adult educators and learners. We are pleased to reveal our fresh look for ProLiteracy and enhanced functionality at proliteracy.org!
We partnered with Advocate Creative, a branding and design agency, to bring our new branding and revamped website to life with a focus on growing awareness and support for our mission while improving the user experience. Our logo has been refreshed with a modern look and more strongly integrates our publishing division, New Readers Press.

On the website, we are thrilled to present our leading-edge resources and information with a new streamlined approach. Anyone interested in adult literacy and education—from member programs and instructors to donors and the public—can easily find, understand, and engage with what they want and need to know.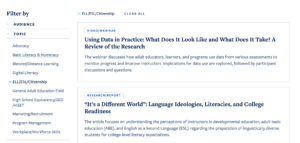 Because the core of our mission is helping programs build capacity to serve more learners, we've added a major enhancement by building searchable libraries of resources and courses. This new database can be filtered based on exactly what the user needs, whether it's lesson plans, research, instructor training, toolkits, or student courses. With this new functionality, we've created a one-stop-shop where adult education professionals can view all related resources at once.
We hope you take some time to explore the site and that you find the updates useful. We're excited about these changes, and we hope they allow us to better serve adult education programs and promote the adult literacy cause.