Mary Krenceski's father was a HAM radio operator and would often invite other HAM radio operators to the house to talk about their hobby. The wife of one of the men would often come along to visit with Mary's mother. The woman would talk about the work she was doing as a literacy volunteer in St. Lawrence County, NY. Young Mary would sit and soak in the conversations.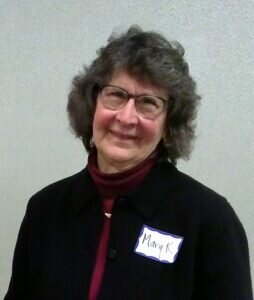 Those conversations are what inspired her to pursue becoming an adult literacy tutor. For years it was something she kept in the back of her mind, but with work and life, finding the time was hard. Then, in 1999, she decided it couldn't wait any longer. 
"I was really, really busy at work. I was driving all over the place and traveling for work, but I thought, you know what, I'm going to carve out the time and just do it," she said. 
And with that decision, Mary, a chemist, volunteered to be a tutor at ProLiteracy's member program Literacy Volunteers of Rensselaer County (LVRC) in Troy, NY. 
She worked mostly with English language learners and soon became experienced enough to start training new tutors. It was around the same time in 2007 that Mary challenged herself to take that experience and put it to the test at a nearby ceramics manufacturer. 
Education in the Workplace 
Blasch Precision Ceramics, with the help of the local office for the U.S. Committee for Refugees and Immigrants, had started offering job opportunities to groups of people who were new to the U.S., many of whom could not speak English.  
An engineer at Blasch, who had been a tutor with an adult literacy program in Connecticut, recognized that, if they could offer English language services on site, they could build a stronger and more efficient work environment. He enlisted LVRC to help.  
Mary heard about the opportunity and met with the engineer at Blasch. The rest is history. Mary is in her 15th year tutoring English learners once a week in the workplace.  
On the nights tutors are there, Blasch employees can use their breaks to work on their English. One night a week they meet with Mary, and another night they meet with a tutor to learn English for daily life. 
Mary's lessons are specific to the Blasch workplace. Blasch creates ceramics for oil exploration, military purposes, and aerospace applications, for example, so the language related to the work and technology is distinctive. In response, Mary has created her own curriculum based on what she sees—literally.  
"I am a chemist, and I worked at a local manufacturing site, so … I got my safety glasses and my lab coat and my safety shoes, and I asked that I go on a tour," she said. "Six months later, I asked to shadow my students. And I didn't shadow just one student; I went around and saw what everyone was doing." 
Even now, every night when she leaves, Mary skirts through the work site to get a look at the floor and workstations. She writes down what signs she sees and what tools and equipment the employees use. This serves as the basis for her lessons. 
Safety First 
I want the students to know what it means when a sign says, 'Not an Exit.' 'Exit,' OK, I like that sign too—but 'Not an Exit' is equally important.
With every new group of students, Mary always starts with safety. 
"I've got a real burr under my saddle about safety, so I want the students to know what it means when a sign says, 'Not an Exit.' 'Exit,' OK, I like that sign too—but 'Not an Exit' is equally important." 
In addition to teaching the words on the signs, she covers vocabulary for safety gear, fire safety and things like how to safely behave around a crane or fork truck. Once safety is covered, she moves onto other useful workplace vocabulary. She likes to go over the shapes they're creating in working with ceramics and the tools they are using. While her students might know how to use the tools, they don't know what they're called in English. So, Mary keeps notes of the tools they use that she needs to teach them. She even brings in her own toolbox occasionally as part of her lesson. 
"So, when they get into their workstation and they're missing a socket wrench, in the old days they would have to go and get somebody who spoke their language to tell them that they're missing a socket wrench and do a hunt for a socket wrench," she said. "Now they can find their own socket wrench. We do a lot of exercises like, 'Do you have a socket wrench?' They can say, 'No, I don't have a socket wrench,' or, 'Yes, I do have a socket wrench.'" 
To Mary, these simple things are so important to teach the employees so that their time at work is not only safer but easier. She said management has told her how they notice a difference between those that attend class and those who don't. Because the classes are popular, there is an expectation that if students are given the time to go that they will make attendance a priority. 
Lives Improved 
With improved English, Mary has watched students get promotions or, with their new ability to complete job applications and take part in interviews, be able to find elsewhere.  
These skills, she said, have put them in charge of their own destinies. 
Over the years, new workers continue to arrive from different countries and join the English language program at Blasch. With each new group, she goes back to the basics so they can effectively work alongside their coworkers.  
"Students will come to me and say, 'You need to bring the tools back—he needs to know the name of the tools.'" 
Mary has found a niche where she has been able to help immigrants and refugees not just learn English but excel in their new country. In large part she credits Blasch for this opportunity because the company had the vision and the forward thinking to implement this program 15 years ago when workforce education wasn't as popular as it is today.  
And as long as the students are making the time to prioritize their learning, Mary will prioritize her commitment to show up for them. 
"You never really know what's going to happen on any given night. And I love that. I love the surprise element. When someone comes in and suddenly knows the word for square—oh my god! It really pumps me up. It's a real source of energy for me," she said.  
"I've never regretted going."