Writers love readers. 
That's why a group of over 100 authors is passionate about ProLiteracy and our ability to create more readers to love. 
"The world just opens up to you when you read," said Jordyn Kross, president of Passionate Ink, an independent chapter of romance writers. 
Passionate Ink members write erotic fiction, ranging from steamy to 50 Shades of Grey-level steamy. As a subset of the romance genre, the authors are devoted to using their craft to formulate great stories that have all the same aspects of what make a really good romance, Kross said.  
And this summer, 17 of the group's authors have contributed their romance stories to a 2023 summertime-themed anthology titled Hot & Sticky, which went on sale August 1 to benefit ProLiteracy. This is the third year in which 100% of the proceeds have been directed to ProLiteracy's work to support new adult readers.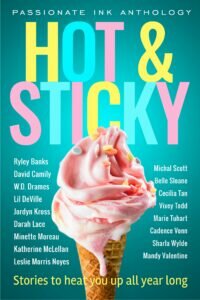 As a charitable project from start to finish, all of the writers donate their stories for the duration of the 90-day sale to be exclusive in the anthology, and Passionate Ink covers the costs of production. Not only does the project benefit a good cause, the chapter also uses it as a mentorship opportunity between experienced writers and those who have never been published, Kross said. Throughout the making of the anthology, the pre-published authors get support with the publishing process—from professional editing and marketing to working with a cover artist and embracing their pen names, and everything in between.  
Once the sale is done, the newly published writers have a polished story to walk away with to do what they like, giving them a leg up as they enter the world of self-publishing on their own. 
"This project is really unique and special. We have authors with a huge amount of experience and complete newbie baby writers all in the same bucket working together. It's a lot of fun," she said. "And then we get the joy of the donation, and the group is really proud of that." 
With 17 contributors this year, this is the largest anthology yet, which the group hopes will spur more sales. And while it's a genre that might not be for everyone, people want to read what interests them, and there are plenty of people who this genre appeals to. 
"I never liked writing in school. But had they let me write dirty, sexy stories, I probably would have liked it a lot more," Kross said. "And sometimes I wonder if there aren't potential readers out there who, if they found the thing they really want to read, might read. Let's give them what they want!" 
Passionate Ink intentionally keeps the price of the anthology low, at only $4.99, so cost isn't a deterrent and can have a greater impact for ProLiteracy. 
"People struggle with reading, and we're thrilled to find new readers," she said.  
Passionate Ink's 2023 anthology Hot & Sticky is exclusively available on Amazon for a limited time to benefit ProLiteracy.