Fifty years: Few others have dedicated as much time to one adult literacy program. Sandra Malone has.  
She fell in love with teaching adults in 1972 and never looked back, giving her time and energy to the students at South Coast Literacy Council in Orange County, CA. And even after 50 years, she's still going strong—connecting and laughing with students.   
Meet Sandra Malone. 
The Basics 
ProLiteracy: How long have you worked with South Coast Literacy Council?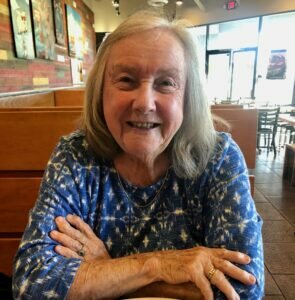 Sandra Malone: I joined South Coast Literacy Council and took my training in the summer of 1972. I started tutoring in September 1972. So, I have worked 50 years. However, I took a sabbatical leave from 1992–1994 to serve in the Peace Corps in Poland, training teachers to become teachers of English as a second language.   
PL: Why did you decide to teach adults? 
SM: I have my bachelor's degree in English education and taught high school English. I then decided to get a master's, and I taught classes in writing. I really liked teaching older students better than high school students. After moving to San Clemente, California, with four children, I wanted to do volunteer work and saw a newspaper article about SCLC and volunteer teaching adult literacy and ESL. It was exactly what I wanted to do! 
PL: What do you teach (e.g., basic literacy, high school equivalency, English as a second language, citizenship, workforce readiness) and in what setting? 
SM: I teach in a classroom setting of 20 intermediate to advanced students. But in my 50 years with SCLC, I have taught all of the above at one time or another! 
About Your Experience 
PL: What have you learned about yourself by working with students? 
SM: After all these years, I know that I chose the right career for my life. I love teaching, especially ESL. 
PL: Tell us about a favorite/impactful/memorable teaching experience. 
SM: Oh, my. I have had so many! However, one experience stands out. [It] happened from 1980 to 1990 when I chaired the SCLC Amnesty Program, which was helping President Reagan's Amnesty for Illegal Immigrants. Our council was instrumental in helping students to become citizens, gain residency, and get 40 hours of class study to pass the required test. That started my interest in teaching citizenship, too. 
PL: How do you keep students motivated? 
SM: I think that I do that by becoming friends with each student—remembering their names, making eye contact with every student, having lessons that include all the students, including some humor and fun, and ending every class by telling the students what interesting lessons we'll study next class period. Right now, I have nine students who have been with me for 25 years!    
The Other Stuff 
PL: Name someone who inspires you.  
SM: Maya Angelou 
PL: Where would you go on your dream vacation? 
SM: I have never been to Africa. I would like to go to Botswana because I have been a fan of Alexander McCall Smith's books The No. 1 Ladies' Detective Agency. 
PL: What is your favorite book of all time? 
SM: The Good Earth. I first read it as a child. It opened my eyes and interest to people around the world. I think that's why I enjoy my immigrant students so much. 
PL: What are you reading now?  
SM: Dinners with Ruth by Nina Totenberg 
Instructor Spotlight is a monthly feature on the ProLiteracy website and blog. Nominate an outstanding instructor from your program to be featured!