Suz Hall spent 30 years working as a licensed physical therapist, but 17 years ago, after teaching one semester in the adult literacy program at ProLiteracy member program Neuhaus Education Center in Bellaire, Texas, she knew she had found her second career—and her happy place.  
Meet Suz Hall. 
The Basics
ProLiteracy: How long have you worked with Neuhaus Education Center?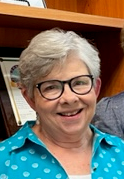 Suz Hall: I have been connected to Neuhaus Education Center for 24 years. I joined the staff of this nonprofit 18 years ago and began teaching in the Adult Literacy Program 17 years ago. 
PL: Why did you decide to start working with Neuhaus Education Center? 
SH: This was a second career for me. After spending 30 years working as a licensed physical therapist, I became interested in volunteer tutoring at my son's school. That led to my decision to complete the Dyslexia Specialist Preparation Program at Neuhaus and, subsequently, to start a practice doing private dyslexia therapy with school-age students. After several years, I accepted a position in the Family Support Office, which entailed providing information, resources, and referrals to families of children with academic issues. That was when I learned about the evening Adult Literacy Program that Neuhaus offered to the public. One semester in, I knew I had found my calling.    
PL: What do you teach and in what setting? 
SH: I teach basic literacy using a Neuhaus-designed, Orton-Gillingham-based curriculum that is considered essential for the dyslexic population, but [it] can benefit all low-literacy individuals. We teach reading, spelling, comprehension, and written expression with a multisensory, structured approach. I have a class of 6–12 students who meet twice a week in the evenings at the Neuhaus building. 
About Your Experience
PL: What have you learned about yourself by working with students? 
SH: I have learned that this is my happy place! The emotional reward that I get when I see my students begin to develop confidence and skills that they have never had before is priceless. This experience has helped me to develop empathy and patience that I didn't know I had. And, most of all, I have learned that I won't retire until "they carry me out!" 
PL: Tell us about a favorite/impactful/memorable teaching experience. 
SH: All my class experiences are my favorites. But I do love it when I get an unexpected phone call in the middle of the day saying, "Miss Suz, I was just able to read the street sign for the address I'm looking for!" This was from a truck driver doing daily deliveries for years by following GPS and laboriously matching letters on the invoice to the street signs. He and I both couldn't have been prouder!  
PL: How do you keep students motivated? 
SH: I offer information as quickly as they can absorb it but as slowly as they need to process it. I get to know my students, and I foster class community so that they will support each other. I find ways to give honest positive feedback. But when they begin to experience success, that itself is the strongest motivator of all! 
The Other Stuff 
PL: Name someone who inspires you. (Can be someone famous or otherwise, dead or alive.) 
SH: My father has been my life-long inspiration. As a college professor who came from very humble roots, he always lived by the philosophy of paying it forward. He was beloved by his students and world-renowned in his specific engineering field. 
PL: Where would you go on your dream vacation? 
SH: I would love to visit the Scandinavian countries. 
PL: What is your favorite book of all time? 
SH: As a life-long reader, I don't have a favorite book, but I love anything by Fredrik Backman and anything by Alice Hoffman. Backman is highly skilled at portraying the cause and effect of human behavior; both he and Hoffman are skilled at showing us how to laugh at ourselves. I have thoroughly enjoyed Louise Penny's Inspector Gamache series. 
PL: Are you reading anything now?  
SH: I'm reading West with Giraffes by Lynda Rutledge, The Five-Star Weekend by Elin Hilderbrand, and Women Talking by Miriam Toews. 
Instructor Spotlight is a monthly feature on the ProLiteracy website and blog. Nominate an outstanding instructor from your program to be featured!