Photos provided by Exchange for Change
The Bureau of Justice Statistics states that 75% of incarcerated individuals are classified as low literate. Prison education systems educate adults with the goal of giving them a better chance upon release. In fact, incarcerated individuals who participate in adult education programs are 43% less likely to return to prison within three years of leaving prison than those who do not.  
A nonprofit organization in Miami, Florida, believes in the power of education—by teaching self-expression through writing. 
Exchange for Change enters prisons to offer writing classes that range in topic from literature to song writing and play writing to poetry and journalism, said Kathie Klarreich, the nonprofit's founder and CEO. 
"All of these classes increase their ability to think, analyze, communicate," she said. 
In Florida, the only requirement by the state's Department of Corrections is that prisons offer GED classes. Klarreich said the idea to offer an educational opportunity to individuals on the inside that already have their GED was what was appealing. 
"I can talk forever about the value of the kinds of courses that we teach, that reflect the interests of people on the inside, which are exactly the types of courses people on the outside want to take—it's the whole gambit."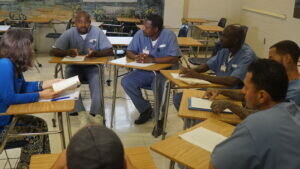 The name Exchange for Change came from the nonprofit's specialty class in which students in prison exchange writing with an anonymous partner in a college-level class on the outside.  
Let's say a class at a university is studying short stories. The class in prison will read the same story as the class on the outside. Students in both classes then write their responses to the story and exchange them with their partner. Students read their partner's thoughts and then write a response back. 
"And that becomes a semester-long conversation between two writers in two different institutions that get to know each other as individuals, not as a university student or as an incarcerated writer," she said. 
Klarreich said Exchange for Change's mission is twofold.  
"One is to provide these communication skills to the incarcerated population, but then to also educate the population on the outside about who the incarcerated are. We do this by humanizing the voice," she said. "Instead of talking about them, we let them talk for themselves." 
She said there's often a tendency for the general public to forget about those who are incarcerated or to dehumanize them. 
"Through this program, as much as they connect to the outside world, it gives their partners a glimpse of them as well. The person they're exchanging writing with has the opportunity to read their words and understand they are a real person," Klarreich said. 
While there was an exchange happening with the outside, Klarreich said they also saw an exchange happening inside—within the classrooms. Individuals from rival gangs would sign up for the same class, or a transgendered person would be in the same class with someone who was homophobic, and as they would write and share, barriers started to come down. 
"It had some impact in making the entire compound more of a community, and that is our whole thing, to try to create community between the inside and the outside worlds, but also [on] the inside." 
Exchange for Change does not claim to reduce recidivism, but they strongly believe that learning new skills and getting individuals' voices heard on the outside will help make it easier for someone who transitions back into society. 
Recently, Klarreich was subpoenaed to testify at a resentencing on behalf of a man who had been sentenced to life in prison as a juvenile. He had earned his GED while in prison and enrolled in Exchange for Change classes. She was able to reflect on the kinds of work he has done in the writing classes and, in particular, through poetry. 
A prison and jail expert also testified on his behalf. "He said 'You know? He wasn't afraid to be known as a poet, which could be considered not very masculine,'" Klarreich said, recalling the testimony. 
The judge resentenced the man to five years' probation. 
While there are a variety of classes, Klarreich said poetry and spoken word poetry are among the most popular.  
"There's a lot of overlap, I think, with rap on the street and the ability to express yourself in a less traditional Shakespearean, Robert Frost kind of way," she said. 
It's become such a popular form of expression within its program that Exchange for Change names a Prison Poet Laureate every two years to serve as the public voice of those on the inside.  
Hear Us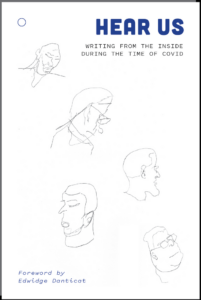 Building off its literary journal Don't Shake the Spoon, Klarreich said the onset of the COVID-19 pandemic gave them the idea to ask students to reflect. 
Don't Shake the Spoon accepted writing exclusively from individuals in prison participating in Exchange for Change, but when the pandemic hit, and then wore on, and the murder of George Floyd raised racial tensions, Klarreich said they realized it was a great opportunity to document in real time what was happening across the U.S. 
The editorial board solicited submissions from across the U.S. The result is the book Hear Us, which Exchange for Change is launching on November 4.  
For this project, they received over 200 submissions from 18 states. In the end, 58 pieces of fiction, nonfiction, and poetry, and drawings were published.  
She said the writings show the humanity of those who are locked up in our prisons. The submissions come from Alaska to Wisconsin to death row in San Quentin and are representative of different religions and gender identities and length of sentences—from long, to short, to life. Some are first-time writers while others have been previously published.
"This is not the kind of book that you sit down and read from start to finish, it's just too heavy. There are some lighthearted pieces, some pretty funny pieces, but there are a lot of pretty profound pieces." 
"I can't think of a better way to humanize these voices than to tell their stories."
Any correctional facility interested in participating in or learning more about Exchange for Change can contact Exchange for Change at https://www.exchange-for-change.org/contact