In our commitment to providing adult literacy practitioners with useful information about emerging practices in the field, we have published a thoughtful look at the role of generative AI (GenAI) in adult education in the new issue of Adult Literacy Education: The International Journal of Literacy, Language, and Numeracy.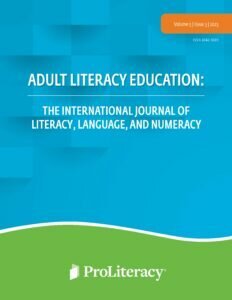 As AI-powered tools have made headlines in the past year, and the world is increasingly exposed to new technology in everyday tasks, ProLiteracy believes it's important to respond to the field on the issue and publish trusted findings about the impact it has on adult education.
In our Technology and Adult Learning column that wraps up Volume 5, Issue 3, authors Sarah Cacicio of the Adult Literacy & Learning Impact Network and Rachel Riggs of World Education share emerging evidence that AI, when used ethically, has the potential to help strengthen adult education programs.
"Technology is constantly evolving, and we owe it to our field to help them understand how to leverage new tools to their advantage," said Mark Vineis, president and CEO of ProLiteracy. "AI isn't for everyone, but that doesn't mean that it's not worth discussing. Adult education programs struggle with limited resources, and it's important to have conversations about new ways to help build their capacity to better serve learners."
ProLiteracy produces Adult Literacy Education in partnership with Rutgers University. The journal editors—Alisa Belzer, Amy Rose, and Heather Brown—are leading researchers in the field of adult literacy and education who believe research is an important complement to practitioners' experiences, intuition, and professional training.
The online journal is published three times per year to share research and best practices in adult literacy, numeracy, and English language education with practitioners, policy makers, and funders. Each issue of Adult Literacy Education includes thought-provoking and peer-reviewed research articles written by leaders in the field to inform and frame wider conversations in the adult education field.
You can find the new issue of Adult Literacy Education at https://www.proliteracy.org/ALE-Journal. Writers interested in submitting articles for consideration in future issues of the journal can find author guidelines and a submission form on the journal's webpage.
By keeping our research free, ProLiteracy ensures the important information shared in the journal can benefit all adult learners equally.