Droga5, a part of Accenture Song, has launched its latest film for ProLiteracy. In an initiative to show how it's possible for low-literate parents to narrate stories to their children in their own voice, Droga5 created a touching docu-style film for ProLiteracy. The video, The Impossible Bedtime Story was launched in conjunction with National Adult Education and Family Literacy Week (September 17–23, 2023).  
With over 40 million low-literate adults in the US, millions of parents are deprived of the joys of reading to children, a routine part of family life, shared with mothers and fathers, regardless of economic status. Research has unequivocally shown that parents reading to their children is the single most crucial factor in determining future academic success. Early exposure to books not only enhances cognitive and linguistic abilities but also opens doors to a world of opportunities. With this top of mind, ProLiteracy invited Felicia, a dedicated mother of four who is on a journey to learn how to read and write, to experience a new type of technology. Leveraging the power of machine learning through the use of Respeecher's voice cloning technology, the team matched both sets of audio recordings to recreate Felicia's voice, allowing her to narrate passages from those children's books.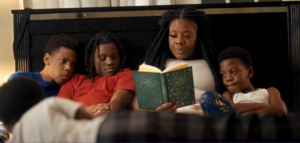 The Impossible Bedtime Story shares Felicia's literacy journey, viewers witness Felicia experiencing the joy of sharing a bedtime story with her children for the very first time. This emotional moment exemplifies the potential of this technology to support meaningful connections between parents and their children, as they work to gain the literacy skills they need to read on their own. 
With the ultimate goal of making adult education and technology like this accessible to the millions of low-literate parents worldwide, viewers are encouraged to volunteer or donate to ProLiteracy to make bedtime stories possible for all. 
Haywood Watkins III, group creative director, Droga5 New York, comments, "When a parent reads to a child they open their child's eyes to different worlds, possibilities, and futures. But millions of children with low-literate parents are missing out on the potential that books provide. Thankfully, reducing this gap is possible and one way forward is a more empathetic approach to tech. It's my hope that our film, The Impossible Bedtime Story, reminds people of that."  
"During Adult Education and Family Literacy Week, we amplify the important role that reading has on a family and inter-generational cycles of low literacy and poverty. While we work tirelessly to achieve the goal of improving lives and families through literacy, this innovative technology can bridge the gap to foster some of those connections that happen between a parent and child while reading until the parent has acquired the skills to do so on their own," said Mark Vineis, ProLiteracy President and CEO. 
SMUGGLER's Samantha Scaffidi, director of The Impossible Bedtime Story, said, "Every night, millions of Americans read bedtime stories to their children, but this seemingly simple experience is one that many families cannot share. Telling Felicia's story and enabling her to experience this moment with her boys using AI voice cloning technologies, we hope will help raise awareness and support individuals on their journey to literacy while enabling them to have these emotional and meaningful moments with the people they love." 
Watch The Impossible Bedtime Story: https://www.theimpossiblebedtimestory.com/