Why use a newspaper in instruction?
Adult literacy and ESL students want to know that their hard work is paying off. Newspapers provide students with an opportunity to read something other than a textbook (let's be honest – no student comes to a literacy program to learn how to read a textbook), and shows students they can apply their new reading and language skills outside of the classroom.
Newspapers are also great because:
they are readily available in print or online
the content is adult oriented and current
the vocabulary is common and practical
the stories are short and informative
they promote thinking and discussion
and most importantly, they are something that most good readers read
Using the Newspaper in Instruction is a series of videos that will show you how to use the newspaper to teach phonics and decoding skills, vocabulary, fluency, comprehension, discussion and oral language skills, writing, spelling and grammar, and critical thinking skills. We've created the first three videos in the series, which focus on decoding skills:
Listening for Beginning Sounds
Listening for Vowel Sounds
Finding Sight Words
Watch this video to learn more.

Do you subscribe to News for You?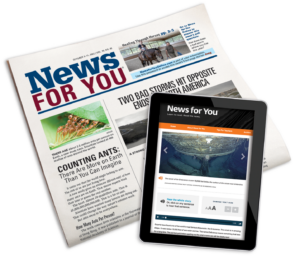 News for You is an easy to read weekly newspaper published by New Readers Press. It's available in print or online. We use News for You to demonstrate the activities in the videos. If you subscribe to News for You, these videos will give you great ideas to use with students.
Learn more and sign up for a free trial.