Teacher Training Plus – High-Level ELL
Teacher Training Plus is a webinar series across six strands that presents best-practice instructional strategies. Training and support for tutors and teachers working with students reading and writing below an 8th grade level.
Within each strand, we identified three areas of need and designed webinars to address each. Throughout all three topics, we addressed working in a multilevel class or group and converting in-person teaching strategies to distance learning.
Generously funded by the Dollar General Literacy Foundation.
---
Goal-focused Individualized Lessons for High-level ELL 
Many adult learners enroll in English language classes with specific goals based on their immediate needs in the US. Ensuring that lessons meet learners' short- and long-term goals can empower, improve confidence, and enable them to advocate for themselves within their communities. This webinar will equip you with the practical skills to structure a lesson with our learners' goals in mind.
September 21 | 1:00 p.m. – 2:00 p.m. ET
---
Learning Through Context for High-level ELL
When teaching English language learners, it is important to use authentic materials with consideration to their cultural backgrounds. High-level English language learners still require consolidation of grammar points and strive to work on more complex grammar points. Teaching these grammatical structures through authentic materials with consideration for students' cultural backgrounds can aid in developing skills whilst using higher order thinking skills. 
January 17, 2024 | 1:00 p.m. – 2:00 p.m. ET
---
Content and Language Integrated Learning (CLIL) for High-level ELL
Not all teaching needs to be explicit. Content and language integrated learning offers students a new way of learning relevant and meaningful concepts through the medium of English. With this learning model, learners hear and use the language exactly as they would in daily life.
March 27, 2024 | 1:00 p.m. – 2:00 p.m. ET
---
About the Presenter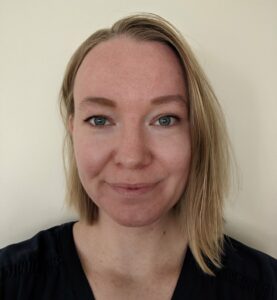 Emma Schreiner is the student and volunteer coordinator for Literacy Volunteers of Rensselaer County which has expanded to serve Albany County too. Around two thirds of the organization's population are English language learners with varying levels of English proficiency. She has worked in educational settings in the UK, South Korea, Russia and the US. Her experience has ranged from tutoring North Korean defectors to developing project-based learning curriculum, to human rights advocacy for undocumented migrants when based in Moscow, Russia. As her work has spanned multiple countries and cultures, she has developed a deep understanding of the diverse needs of English language learners. Emma proposes the importance of lived experience as a way to support language learning.