ProLiteracy is proud to announce on International Literacy Day that it has partnered again with the Lancôme Write Her Future global initiative. In this new iteration, ProLiteracy and Lancôme will support the work of two local nonprofits in Panama to improve the literacy rates of Guna women.  
International Literacy Day was designated in 1967 by UNESCO to recognize "the importance of literacy as a matter of dignity and human rights." UNESCO estimates 733 million people internationally are illiterate. In many developing countries, low literacy and poverty are inextricably linked. People in underserved populations often lack the literacy and critical thinking skills needed to understand and take effective action to overcome their challenges.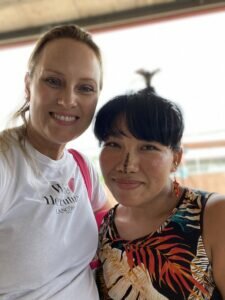 ProLiteracy partners with local NGO programs in 27 countries to help increase efficiency and effectiveness of literacy programs around the world. Our aim is to empower communities by introducing literacy education in the context of social inequalities specific to the areas our partners serve. Using this model gives people the knowledge to improve outcomes for themselves and future generations. 
Worldwide, women are most limited in accessing education, making up the majority of the illiterate and poor population. For this reason, ProLiteracy has historically supported programs that empower women through education and literacy.  
Our latest initiative is no different. Through the Write Her Future initiative, Lancôme is sponsoring our work in the country of Panama to educate Guna women. The Guna Women's Literacy Program will be implemented by Centro de Estudios y Acción Social Panameño (CEASPA) and Coordinadora Nacional de Mujeres Indígenas de Panamá (CONAMUIP) in the community of Abia Yala. ProLiteracy will provide administrative and management support, training, and material development for the duration of the project, which will last one year.  

Context 
The latest figures from UNESCO show that in Panama 132,219 people over the age of 15 cannot read or write. And while these adults are mostly people over 60 years old, people with disabilities, agricultural workers, indigenous people, and women, women alone account for 54% of this group. 
Since 2020, ProLiteracy and Lancôme have collaborated to implement successful and sustainable literacy programs for women in Mexico. The positive outcomes and growth of the Write Her Future initiative in Guanajuato, Mexico, led to the expansion to Panama. 
Description of the program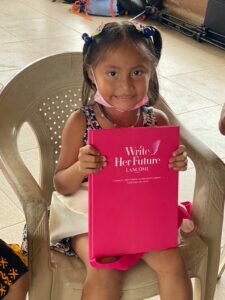 In the community of Abia Yala on the west side of Panama City, The Guna Women's Literacy Program goal is to increase women's literacy skills, improve digital literacy access, and strengthen women's ability to participate in their communities. Write Her Future will provide teacher training, learning materials, project management, and evaluation for CONAMUIP and CEASPA. 
Literacy instruction will be provided using ProLiteracy's Leamos digital curriculum. Leamos lessons teach low-literate or non-reading and non-writing students the fundamental reading and writing skills needed to navigate daily life.  
Objectives of The Guna Women's Literacy Program: 
Obtain data on socio-demographics and literacy levels of the Guna community in Abia Yala to determine the scope of need.
Develop a manual focused on community development addressing the challenges of the Guna community.
Provide trainings on community development and digital literacy issues.
Improve the literacy levels of 25–30 women.
"Write Her Future crystallizes Lancôme's commitment to empowering women through access to education and mentoring for entrepreneurship, so that women can write a happier future and achieve personal fulfillment. As one of the world's leading luxury beauty brands, we have the responsibility to help address social challenges," says Mariana Malo, director of marketing for L'Oreal Luxe Central America. 
"When you know that women comprise two-thirds of the 733 million people globally who cannot read and write, partnerships like this with Lancôme are so important," says Mark Vineis, ProLIteracy president and CEO. "Together, we can ensure local NGOs have the resources to provide women in need with high-quality services." 
About our partners: 
Centro de Estudios y Acción Social Panameño
Centro de Estudios y Acción Social Panameño (CEASPA) is a nonprofit organization that seeks to overcome the marginalization of populations in need to transform their reality and improve living conditions. The organization focuses on human rights, citizen participation, gender, and sustainable development.  
Coordinadora Nacional de Mujeres Indígenas de Panamá
Coordinadora Nacional de Mujeres Indígenas de Panamá (CONAMUIP) is one of the most important entities that represents indigenous women of Panama. CONAMUIP is an inter-ethnic organization that works with indigenous women through a model of direct participation in finding solutions to daily socioeconomic challenges. The tasks and projects carried out, aimed at individual and collective strengthening, cover issues of interculturality, education, health, and the environment. 
Lancôme 
Since visionary pioneer Armand Petitjean founded the brand in 1935, Lancôme has epitomized timeless glamour with a quintessential French touch. Today the world's leading luxury beauty brand continues to inspire with its elusive je ne sais quoi that exudes happiness, confidence, and French chic appeal, as well as the very best in quality, style, and transformative results. With a presence in 130 countries, over 20,000 beauty advisers in as many points of sale relay Lancôme's message of French excellence, with incredible service and iconic products. Lancôme affirms that happiness is the most attractive quality and offers every woman the opportunity to enhance her beauty and femininity, whatever her age and whatever her skin color, by giving her the best of science and innovation. Lancôme's ambassadresses include Julia Roberts, Kate Winslet, Penelope Cruz, Lupita Nyong'o, Lily Collins, Taylor Hill, Isabella Rossellini, Zendaya, Amanda Seyfried, and muse, Chiara Ferragni. Lancôme's ambition is that every woman who comes to the brand to look more beautiful leaves feeling happier.